About the Project
What is the Understanding Contexts of Youth-Adult Partnerships project?
A project designed to engage youth, community partners and academic researchers to examine youth-adult partnerships and outcomes in various contexts (e.g. youth conferences).
Youth, community organizations and academic researchers from across the country in the Centre of Excellence for Youth Engagement's network are involved.
10 teams of youth, community organizations and academics will explore their own local context and research questions that are important in their context, and share their challenges, ideas and results with the other teams.
Together, all of the teams will also implement some common research tools so that results can be compared across all of the teams.
The teams will engage stakeholders and share knowledge with various audiences.
Overall goals:
To generate and share knowledge in the area of youth engagement, with academics, youth organizations, and youth working together as partners.
To strengthen the network and capacity of the Centre of Excellence for Youth Engagement, by adding new partners, academic and community.
To understand the ways in which adults partner with young people in various contexts, many of which are typically based upon unbalanced asymmetrical relationships.
Project objectives:
To strengthen a network of partners of the Centre of Excellence for Youth Engagement, with a specific commitment to exploring youth-adult partnerships in youth-serving organizational contexts
To lay a foundation for developing descriptions (typology) of youth-adult partnerships in various youth organizational contexts
To develop youth/academic/organization partnership triads to explore specific contexts of interest to the organization and youth within the organization, and evaluate the process and outcomes of those partnerships
To enhance capacity of organizations, academics and youth to collaborate in knowledge generation and exchange related to youth engagement and youth-adult partnerships
To provide increased knowledge to organizations about how youth-adult partnerships work in their organizations.
In general, organizational partners and co- investigators have agreed upon 2 general directions for their projects, prior to the more specific directions that will be co-developed by the YPAR teams: 1) develop descriptions (a taxonomy) of youth-adult partnerships across participation in different contexts (i.e., youth conferences, mentorship programs, youth in governance, and youth leadership programs), and; 2) examine outcomes that result from youth-adult partnerships. Importantly, similarities and differences will be examined across the different youth program contexts. This project is funded by a partnership development grant from the Social Sciences and Humanities Research Council of Canada.
Principles We Work By
Build-in wherever possible to existing work and interests (win/win)
Create easy, accessible, time efficient methods of data collection for the project
Efficient management systems: minimal nagging
Every large collaborative call or meeting advances the project concretely
4 Pillars: Respect, Listen, Understand, Communicate™
Clear Goals: big picture and small picture
Make sure we're having fun
Youth engagement-centered approach
Youth Engagement Framework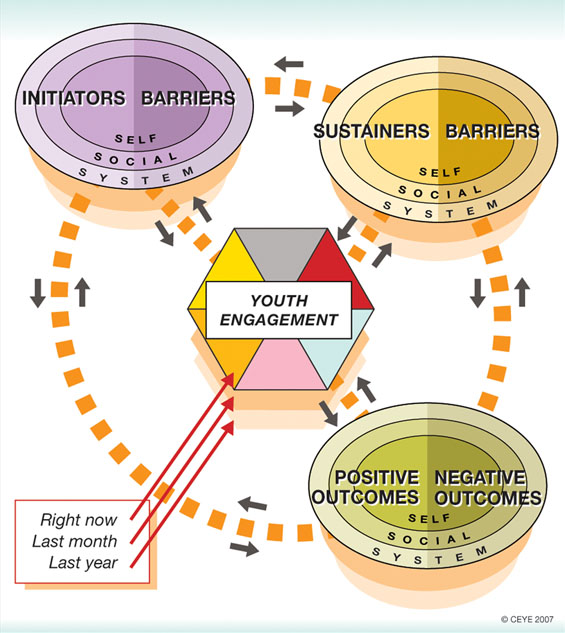 The Youth Engagement Framework from the Centre of Excellence for Youth Engagement. PDF version
The Centre's Youth Engagement Framework provides a way to conceptualize youth-adult partnerships, youth engagement contexts and outcomes. The framework is designed to take into account the three levels in which engagement and outcomes happen: 1) Individual, 2) Social, and 3) Systems. These levels are illustrated by the three layers in each bubble. This framework highlights the importance of youth-adult partnerships as initiators and sustainers of youth engagement that are associated with positive outcomes for youth and adults at the individual and social levels, as well as for the organization and community. Further, the framework also illustrates the importance of the context of youth-adult partnership activities (in the central hexagon) for these outcomes. With this framework in mind, we can question whether youth-adult partnerships are different in different contexts, and whether they have different outcomes.