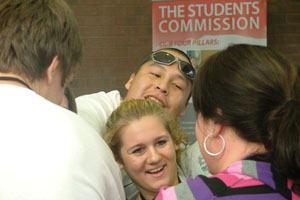 Indigenous Youth
For more than twenty years the Students Commission has been engaging and partnering with Indigenous youth (including First Nation, Inuit and Metis youth), organizations and communities from coast to coast to coast. The relationships we have developed from these partnerships have been long lasting and helped inform and shape new projects, activities and opportunities for all young people involved with the Students Commission. Indigenous youth have provided leadership in existing Students Commission programming and helped develop Students Commission projects or activities in their own communities.
Our Western Hub is located in Nutana Collegiate, a high school in Saskatoon with a large Indigenous youth population. Through our partnership with Youth Launch who houses this Hub we have had the opportunity to support and learn from many programs in Saskatchewan and develop long lasting relationships with youth, communities and Tribal Councils. Our Eastern Hub has worked extensively with Indigenous communities and youth throughout New Brunswick and Atlantic Canada. Our Central Hub has been working with local communities in Ontario and the North West Territories.
More than 1,000 Indigenous youth from hundreds of communities have attended our annual conferences, symposiums, trainings or other gatherings. Youth from Indigenous communities in every region of Canada have participated and Students Commission staff and leadership have attended conferences, events and ceremonies, while visiting Indigenous communities across Canada.
Our Summer Youth Employment Program has been an excellent example of one of our national programs that has become richer with the participation of First Nation, Inuit and Metis youth. Since the introduction of this program more than 70 youth living in First Nation communities (such as Kainai First Nation or the nine communities within the Meadow Lake Tribal Council), the North, (Arctic Bay, Nunavut) and in urban centres (with partners such as The Ma Mawi Wi Chi Itata Centre in Winnipeg or the Nishnawbe-Gamik Friendship Centre in Sioux Lookout) have helped create change while bringing national programs and opportunities to their communities and helping bring community issues to the national table.
Projects like Focus 3 provided direct activities and programming in communities such as Kainai and Kuguluktuk, Nunavut where young people's efforts to address challenging issues were recorded and developed into a Toolkit to be shared with other communities. Currently the Blueprint program on violence in young women's lives is being offered at Dennis Franklin Cromarty High School (DFC) in Thunder Bay in partnership with the Regional Multicultural Youth Centre. DFC , administered by the Northern Nishnawbe Education Council, is a high school for First Nation students from northern fly in communities.
The Students Commission is a proud partner of Mamow Sha-way-gi-kay-win/The North-South Partnership for Children and a Students Commission staff person sits as the Co-Chair of the Youth Engagement Working Group. Since our involvement with Mamow Sha-way-gi-kay-win, we have had the opportunity to visit northern First Nation communities, engage youth in our national conferences and regional programming, to provide facilitator and youth engagement training and to support youth to develop their capacity as strong community leaders. Most recently we supported the Imagine A Future Training in Thunder Bay with youth and young adult leaders from more than ten northern and remote First Nations. For more information about Mamow Sha-way-gi-kay-win visit their website
In the Spring of 2012 we completed a yearlong project with the Chiefs of Ontario (COO), a co-ordinating body for 134 First Nation communities located within the boundaries of Ontario. We supported the development of the Indigenous Youth Engagement Policy for (COO) by supporting Indigenous youth to host local Youth Forums and to provide facilitation and support in the areas of youth engagement and policy development with the youth and young adults. We supported a training session for youth leaders within COO and five Youth Forums hosted in Thunder Bay, Toronto, Bkejwanong First Nation, Atikameksheng Anishnawbek and Moose Cree First Nation). For more information about youth activities in Ontario and to learn how First Nation youth in Ontario can participate please visit COO's website.
In 2012 we hosted This Is Canada: A Young Decision Makers Gathering bringing together Aboriginal and non-Aboriginal youth from across Ontario for a five day gathering where young people learned, shared while deciding what can be done by young people to address the issues relating to racism and discrimination in Canada, quite often directed at Aboriginal Peoples, newcomers and low income families. With an Elders Council and youth from more than ten First Nation communities it was an excellent opportunity for youth of diverse backgrounds to develop tools they can use in their own communities to take a stand against racism and discrimination. Tour our website for more information and tools from This Is Canada.
Many Students Commission activities and programs have been and can be adapted to best fit a range of communities. To learn more about how the Students Commission can provide programming in your community or to partner on programs and projects please feel free to contact us directly at tgmag@tgmag.ca.