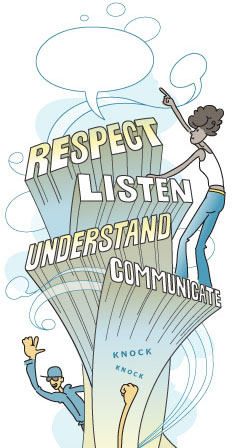 Influence in Action
The Students Commission (lead organization to the Centre of Excellence for Youth Engagement) is a national, charitable youth organization that works to provide, promote and support opportunities for young people from all walks of life to become meaningfully engaged in issues that directly affect them, their peers and their communities. In 2009, we were awarded funding from Health Canada for an evidence-based program, entitled Influence in Action, which addresses substance use by training youth who are peer influencers. With the information and skills from the training, these youth influence the decision-making of their peers through informal conversations.
This program is an excellent opportunity for influential students from different social groups in each school to learn some new life skills, gain new knowledge and methods of communicating with their peers. It is an amazing opportunity for the greater student body to be positively influenced in their decision-making. This program is based on a randomized control trial in Wales that reduced smoking rates across school populations by 4%. It involves very little time commitment on the part of any school staff.
Through a questionnaire, students identify youth they see as influential in their schools. Youth from each school with the highest influencer scores from their peers are invited to a two-day training where they receive current information about a variety of different topics with a particular focus on cannabis. The training is focus on the development of participants' critical thinking and communication skills with the intention that these skills will assist participants and the peers they influence in making informed decisions. The program is evaluated using a pre and post quiz activity targeted towards the grade level. It measures change in attitude and knowledge towards a variety of topics with a particular focus on cannabis. Our staff works to support peer influencers using a combination of journaling, social media and one-on-one check-ins. Where possible, there are school wide questionnaires delivered before the training and after the 10 week program. The evaluation results are shared with participating schools.
If you want to know more about this program, please contact Sharif Mahdy 416 597 8297 or at sharifm@tgmag.ca in Toronto.