Mahar Restaurant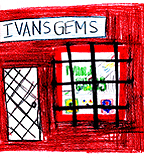 Click on the centre photo to see a larger archival version.


---

QUESTIONS:

What similarities or differences can you find
between North American foods and
foods from various cultures?

Do you enjoy foods from different countries?

Why or why not?




---

QUOTE:

"Conventional wisdom regards immigrants
as uprooted individuals who must adopt
the ways of a new land
or at least compromise between old
and new world values.
This view is being challenged..."

Click here to see the entire article...
---
Website design: TG Magazine, 1996