Karachi Bazar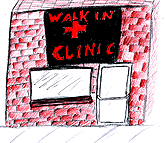 Click on the centre photo to see a larger archival version.


---

QUESTIONS:

Why would the storeowner
choose these particular movie posters
to adorn the front of the store?

What does this tell you about the audience they cater to?



---

QUOTE:

"Misogyny and racism make pretty nasty little bedfellows."

Click here to see the entire article...
---
Website design: TG Magazine, 1996