Addar
Tours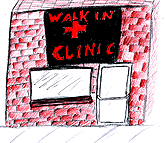 Click on the centre photo to see a larger archival version.


---

QUESTION:

Why would the storeowner choose
a man astride a camel as his/her symbol?




---

QUOTE:

"...27% (or 10 out of of 37) of non-white entrepreneurs felt their applications were scrutinized more closely and 29% felt they were required to provide more collateral than someone from a different ethnic group for a similar venture."

Click here to see the entire article...
---