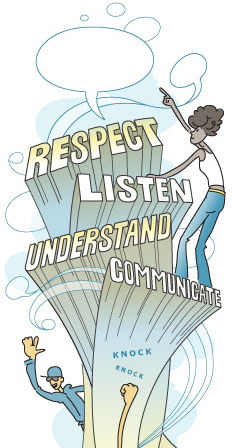 The Young Decision Makers Youth Group
Young Decision Makers (YDM) is a group of youth, young adults and adult allies from across Canada working together to ensure that youth voice is heard among decision makers such as governments, systems and organizations.

YDM is also a model used to make impactful decisions; it focuses on studying an issue, discussing an issue, making decisions, informing policy makers, and taking action.
Definition
Youth Engagement: The meaningful participation and sustained involvement of a young person in an activity, with a focus outside of him or herself. The kind of activity in which the youth is engaged can be almost anything - sports, the arts, music, volunteer work, politics, social activism - and it can occur in almost any kind of setting.
- Youth Centre of Excellence
Because The Students Commission believes in the principle of youth leading youth engagement, youth facilitators are employed to facilitate the weekly meetings and help with the creation of the various content. The youth will help coordinate, plan, and set up a final showcase to summarize and cap off the project at the end of the 8-month period this project will span.
This project website is intended for our partners, and the public, as a resource to access resources and tools, build connections with other partners, and share what we are learning.
This project is coordinated by the Students Commission (lead organization to the Centre of Excellence for Youth Engagement), a national, charitable youth organization that works to provide, promote and support opportunities for young people from all walks of life to become meaningfully engaged in issues that directly affect them, their peers and their communities. Young people and adults work in a setting that operates under our Four Pillars: Respect, Listen, Understand, Communicate.™
If you want to know more about the YDM project, please contact us at info@studentscommission.ca.