Tools
Frameworks
The Knowledge in Action Model from the Centre of Excellence for Youth Engagement. © 2011
Why the Knowledge in Action model?
The Knowledge in Action model guides this project because it is based upon the co-creation of knowledge and respect for all types of knowledge, which speaks to the role of youth and community partners as co-researchers. It also values the exploration of adult/youth partnerships across a variety of contexts, each partner sharing knowledge and data about those contexts.
The model also emphasizes the importance of process, of co-creation of knowledge (the closer the knowledge user is to its development, the better the use of that knowledge) and expert facilitation to share and implement the knowledge. The model speaks to the need of facilitating the interaction of all stakeholders, providing facilitation for academic investigators and academic students to work effectively with community partners and youth and vice versa.
The inner triangle represents steps in knowledge construction and the outer cycle represents action. The model will help track the process of knowledge sharing and use, transferring information and feeding back into programs, as well as informing various audiences (e.g. policy makers, practitioners, youth, academics). However, these are dynamic, fluid and interactive so there are often many cycles happening in different orders at the same time. For example, there may be several cycles in this project that occur in the knowledge construction triangle, where teams continue to refine and tailor knowledge, and develop new understandings at the same time as action is happening based on previous findings. Making decisions together about what knowledge is important and how to interpret it are key to this process.
The Young Decision Maker's process is another useful model to help youth-adult partners construct knowledge and make decisions about what is important to share. In the following graphic, the Young Decision Maker's model can help to guide some of the cycles of knowledge construction.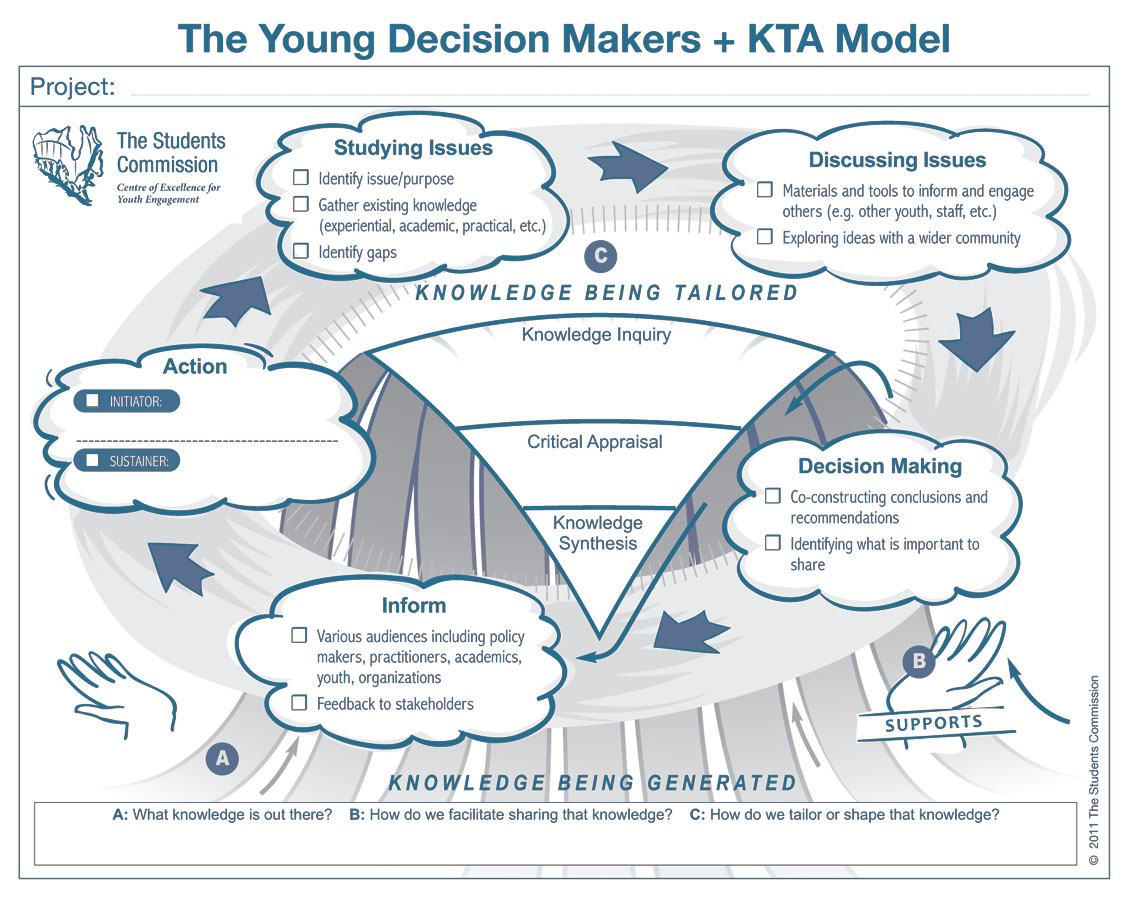 The Knowledge in Action Model combined with the YDM model. Download blank PDF version for planning. © 2011
Why a Participatory Action Research framework?
Participatory Action Research (PAR) is research that involves all stakeholders to examine something together in order to take action to improve/change it. PAR is democratic, involving people that typically do not have the means to do research and is intended to benefit those that are undertaking the inquiry. The Knowledge in Action, Young Decision Makers and Participatory Action Research frameworks have complementary principles that put youth-adult partnerships into practice:
Everyone (including youth) has the right to research
Stakeholders are included
Power is redistributed so that everyone is a researcher
Youth are in leadership roles in partnership with adults
Knowledge is co-constructed
All types of knowledge are valuable and respected
Everyone has something valuable to contribute
Co-researchers participate in all stages of the research
The process is important and responsive
Critical consciousness and reflection (i.e. connecting individual everyday experiences to others' experiences as well as social and system-level structures) are required to make meaning and take action
Knowledge and action are interconnected
Researchers are accountable to stakeholders and larger constituency
Questions for how we want to work together:
- How should we match up teams of youth, organizations and academics?
- What are our timelines?
- What are the budgets for each team and for travel, and how do we want to use them?
- How do we make decisions?
- Who owns what information?
- How will we approach ethics (academic and organizational)?