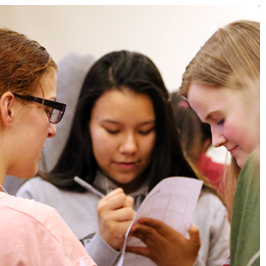 The #CanadaWeWant Conference
Location of Event: YMCA Cedar Glen
Dates of Event: February 27-March 5, 2018
February 27 - 28, 2018: Sharing the Stories Knowledge Exchange
Sharing the Stories (www.sharingthestories.ca) is a platform of youth engagement and youth program evaluation tools. It supports youth organizations to track outcomes and tell the story of their programs and initiatives. The Sharing the Stories (StS) initiative involves diverse youth organizations and agencies from across Canada and around the world. The platform also offers one-on-one coaching for youth organizations to build their capacity for meaningful youth engagement and youth program evaluation. There are currently 182 StS subscribers. StS subscribers and members of the youth sector are invited to make meaning of the data collected from the Sharing the Stories research and evaluation initiative.
February 28 - March 5, 2018: The #CanadaWeWant Conference
The Students Commission of Canada (SCC) was founded at a national youth conference in 1991. The 1991 youth conference produced 260 recommendations for policy makers with the final recommendation focused on 'commissioning' an organization to support the implementation of the recommendations. Since then, the SCC has hosted at least one pan-Canadian conference every year. We are inviting 135 youth aged 12-25 and 25 adult allies from every province and territory to participate in the 2018 #CanadaWeWant Conference. Our conference will focus on providing young people with an opportunity to have a say in the decisions that affect them and to determine the #CanadaWeWant for the next 150 years. We will use the Young Decision Makers model to work through theme areas identified by young people. We will also build opportunities for young people to continue this work in their home communities.
Option #1: Sharing the Stories Knowledge Exchange (February 27-28, 2018)
All Participants- $150.00

Option #2: StS Knowledge Exchange plus the #CanadaWeWant Conference
(February 27-March 5, 2018)
Adult Allies- $500.00

Option #3: The #CanadaWeWant Summit (February 28-March 5, 2018)
Adult Ally - Fee $500.00
Youth - Fee $375.00

Option #4: Conference Facilitators and Prep Support (February 27-March 5, 2018)
Adult Ally - Fee $450.00
Youth - Fee $375.00

To Register:
Step 1: Register and submit payment on Eventbrite.
Step 2: Complete a copy of the Canada We Want Conference Forms and send to the SCC.
You can complete the forms on your computer, print and sign, or fill them all out by hand.
Fax or email the scanned and completed forms back to us at 416-597-0661 or info@studentscommission.ca.
Your registration is not complete until we receive your complete and signed forms!
Please note:
There is a travel subsidy available for those who live outside of Ontario. Partial travel costs are covered and arranged by the Students Commission upon receipt or confirmation of the conference registration fee and completed conference forms.
Conference fees for this event represent 65% of the costs involved in delivering and hosting the conference. The Students Commission is subsidizing the remaining 35% of the costs.
For more information call 416-597-8297 or through e-mail at info@studentscommission.ca